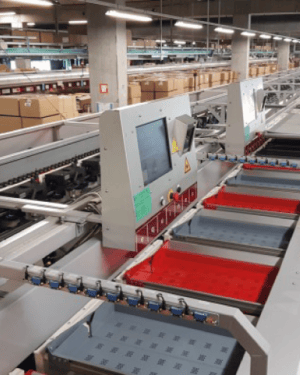 The fashion company Camaïeu is updating the existing sorters in its warehouse in Roubaix, France. Camaïeu is the first women's ready-to-wear brand in France.
The last expansion of the Camaïeu warehouse in its sorting yard included two pre-sorters installed a few years ago. These are good for many years. There are, however, five flat sorters (bomb packers) installed more than ten years ago.
In order to maximize the efficiency of flatbed sorters and ensure their productivity, Equinox and Transitic have updated sorters one by one. This includes upgrading or replacing moving parts, updating the electrical installation, and installing new displays around the sorter. In addition, the Exact software for each sorter will be updated and moved to a new server.
By updating its existing sorters, Camaïeu is ready for the years to come without having to invest in new machines. This is one of the benefits of the Equinox sorting program, which offers an alternative to newly built sorters when an existing sorter is already in place. This service includes a quick scan with a report describing possible upgrades. The proposal always aims to upgrade, repair or modify existing components to avoid unnecessary costs.
About Camaïeu
Founded more than 30 years ago, Camaïeu is the first women's ready-to-wear brand in France. The brand relies on a network of more than 900 stores worldwide, spread across 20 countries / territories (including 650 in France). The Camaïeu Group has more than 5,200 employees, including 4,000 in France, who work to offer 100 new articles every week. Camaïeu has been recognized as Best French Channel of the Year 2017-2018, in the category Women's Fashion (October 2017) – Trophy awarded by the marketing agency Newim.