Robotics and automated systems: logistics of the future is already at Flandr'œufs
To meet the needs of this rapidly expanding company, we combined all of our expert capabilities in order to come up with an innovative solution where the robot and the human being work together as part of an overall approach to improving working conditions and productivity.
THE CUSTOMER
Flandr'œufs is a family company that was created 60 years ago. Over the years, it has become a major player in the production of eggs both in the northern France region and in Belgium. With a farm of about 300,000 hens, Flandr'œufs produces, packs and distributes more than 200 million eggs each year intended for large retailers, the restaurant industry or wholesalers. Since 2017, the company and its thirty employees have located operations at Wormhout, and have a packaging centre of almost 3000m².
THE PROJECT
Flandr'œufs decided to entrust TRANSITIC with the development of its packaging centre. The company wanted an installation that was adjustable and automated, able to absorb a growing number of eggs while streamlining the work of machine operators.
For this ambitious project, our technical teams and our IT engineers worked together to devise a motor-driven egg entry and exit system, thereby maximising performance.
THE SOLUTION
We designed an installation of total length of 125 metres, made up of a significant network of TRM conveyors (modular conveyors with motor-driven rollers). This system guarantees 120,000 eggs per hour can be processed.
The conveyors carry multi-sized packages that are able to weigh up to 25 kilos. Entirely motor-driven, the have 7 entry areas that can be adjusted according to the operator's height. Initially placed into cells, the eggs are then transported
to an automatic weighing and labelling area before being directed to a sealing machine using sticky tape.
The eggs are then dispatched to exit stations where they are packed into boxes. To make operators' work easier, the exits are extended by adjustable shelves where robotic arms remove boxes onto pallets ready to be transported.
These robots, designed by our partner Yaskawa, are the product of many years of technological and industrial expertise. As a bonus, they represent an excellent logistics tool; they remove the strenuous aspect of work for operators, ensure consistent performance, and can be managed precisely and remotely.
"Our new system adds to a pre-existing installation and can develop according to Flandr'œufs' requirements. It provides enhanced productivity and offers operators a genuine working convenience by relieving them of carrying heavy loads in particular.'
TOTAL LENGTH OF THE CONVEYOR NETWORK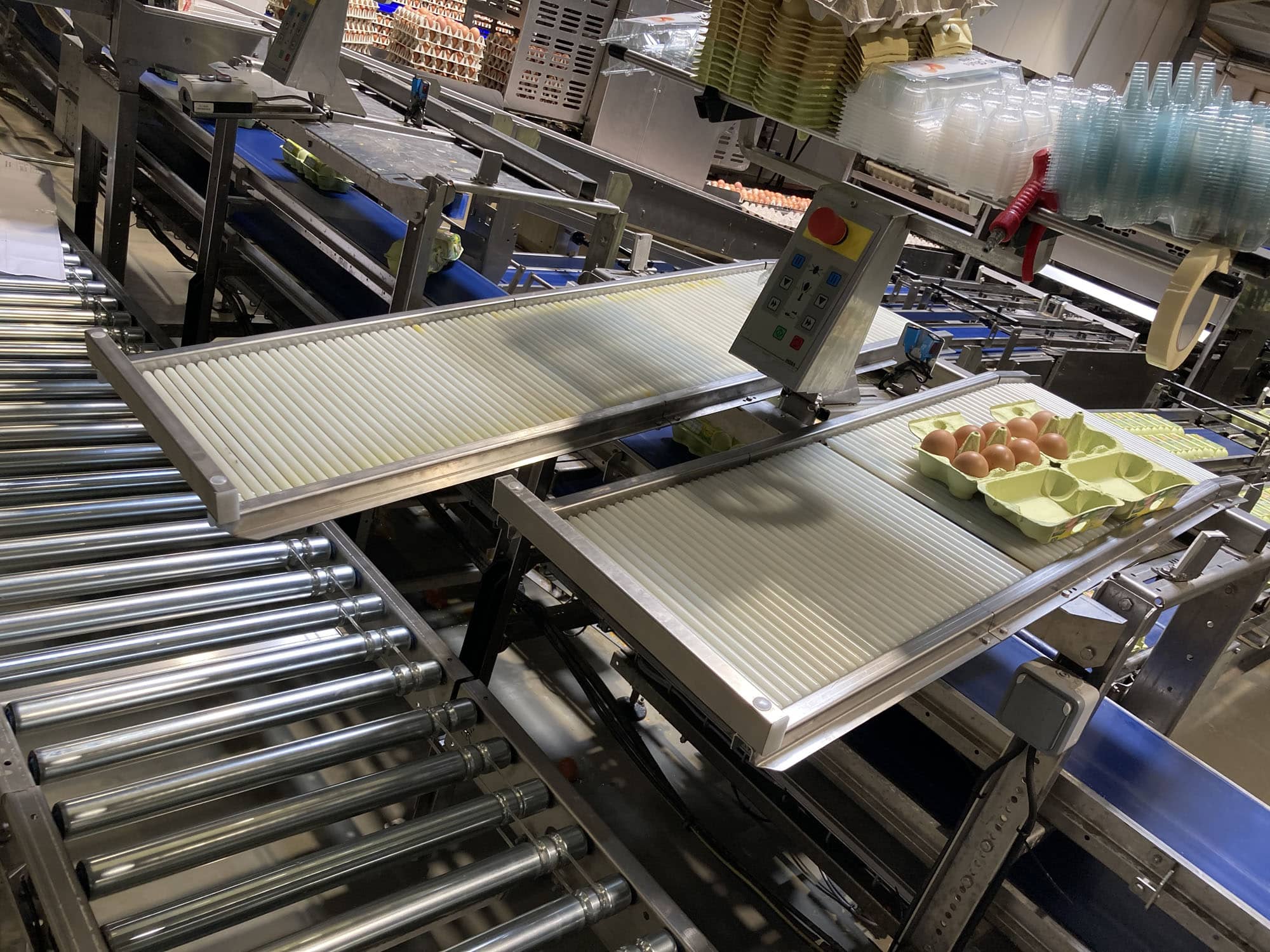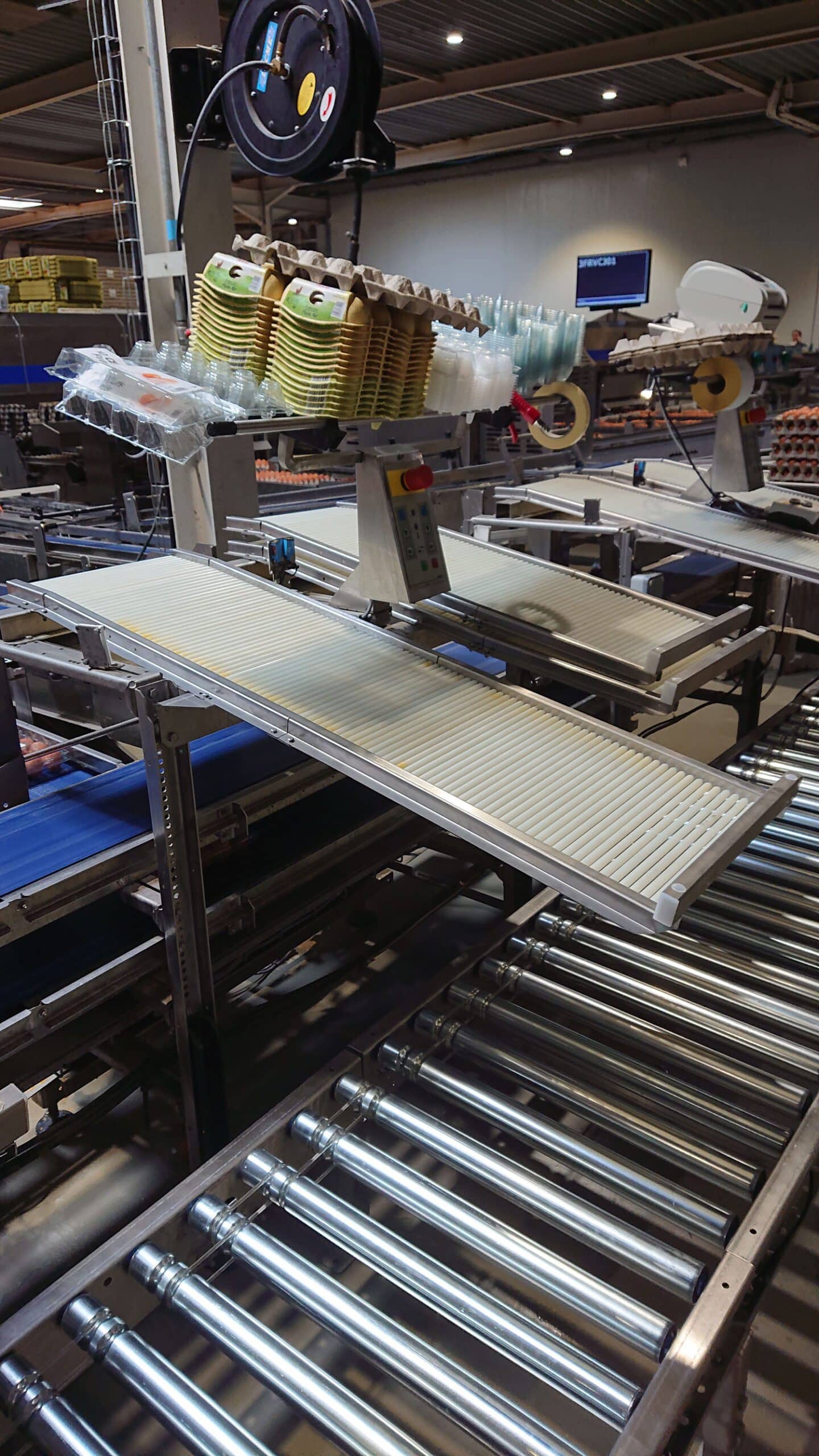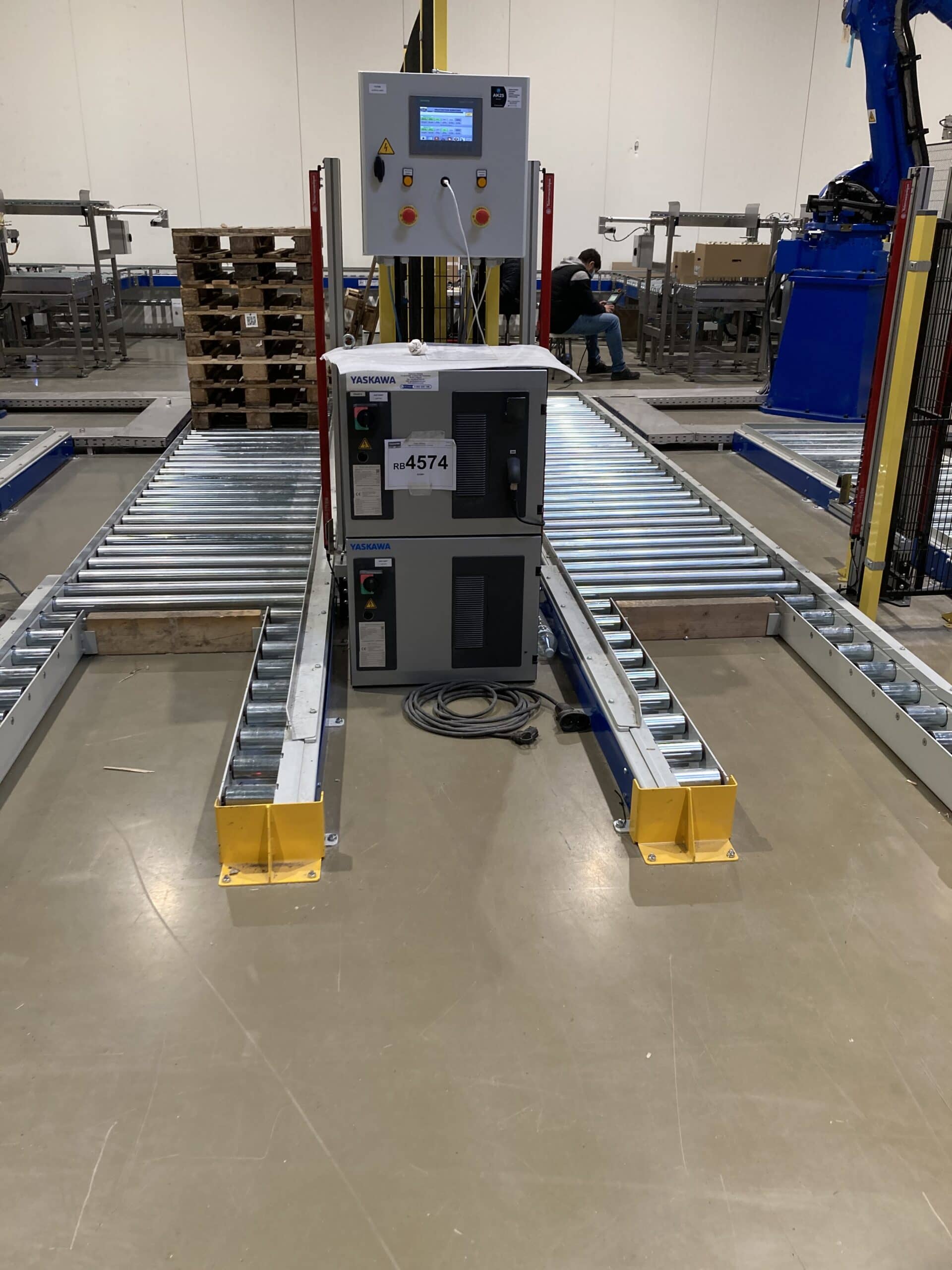 As experts of the intralogistics sector, TRANSITIC combines design, development and integration in order to offer its customers effective, consistent and scalable intralogistics solutions.
96 boulevard du Petit Quinquin CRT 1 – 59812 LESQUIN
Standard : +33 (0)3 20 87 66 96
Support : +33 (0)3 20 87 01 88
Elpke 107/Halle 50 – 33605 Bielefeld